Testimonials
I've had my New Wave Enviro Porcelain Water Dispenser since Dec. 2015 and the little faucet broke. The little plastic handle that you pull down to let the water flow, broke off. I replaced it with The Aquanation faucet, and it's been working great! No leaking, no issues at all. And installing it was a breeze.

Maritza
Bought the 3 gallon square bottle for our camper van so we would have water for drinking and cooking while traveling. This fit perfect behind the drivers seat due to its shape.
This was small and light enough to take into the national parks and fill it from the water stations (filled a nalgine bottle and poured it in this)
Seems well made and I had no leaks. I used a manual pump that goes on top to fill our water bottles on the road.

Dusty K
I bought two of the gallon jugs to use to keep RO water clean and ready to go in my refrigerator (my RO system does not have a fill tank under my sink so it's a lengthy process to get a glass of water.) They're great bottles and I'm ready to order my third! I like to keep one full, one to use during the day, and I find that I'd really like to have one to grab when I go places.

ETA: I just ordered a third and am liking to get a fourth and fifth!

Ruth J.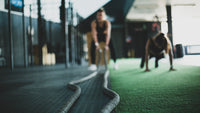 Respect your body, It's the only one you get.
Choose the right products you can rely on are critical, and our AquaNation products can help to fulfill your needs
Proudly Supporting The Ocean Cleanup

No Water, No Life. Our Oceans, Our Future
Proudly Supporting The Ocean Cleanup
No Water, No Life. Our Oceans, Our Future